THE OPEN DOORS SAILBOAT
RUSALKA OF THE SEAS
THE HARDEST MILES ARE THOSE THAT CHANGE YOU THE MOST
A journey that allows you to observe the change that is needed within all of us to work towards more sustainable way of life. Long or short, your time with us will change your way of looking at the world. Rusalka of the Seas is a hands on opportunity to become at one with nature, to travel in an ecologically conscious way that will give you the long term tools to enact positive social change.
THE RUSALKA FAMILY
A family of four offering a pioneering example of sustainable living on the open oceans. Marc and Daniela met ten years ago sailing together in the Atlantic Ocean, and since then have carved out a life for themselves on the seas, committed to raising their two young children, Uma and Pali, on board. They have crossed the Atlantic 9 times, sailed through the Panama Canal, arrived at the remote shores of Pacific islands, and navigated the entire Mediterranean. In 2012 they decided to open the doors of Rusalka, converting it into the welcoming, accessible and inspirational space that it is today, and to this day more than 500 people from all over the world have been part of the experience.
RUSALKA OF THE SEAS
The Rusalka of the Seas is a 20 metre sailboat, made to withstand the toughest the ocean has to offer. She is home for an exemplary family living in harmony with the principles of sustainable living. Her size and capacity offer a unique opportunity to interact with a fully functioning example of engineering and maritime ingenuity, a lovingly restored 1968 built vessel with a history that continues to be written.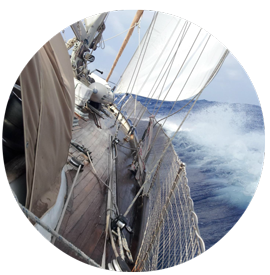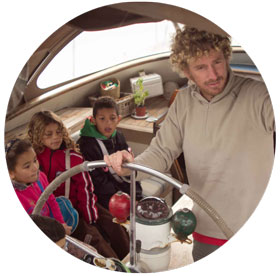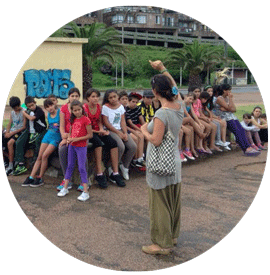 TRAVEL
We organize participatory journeys on board, inviting you to join for a once in a lifetime opportunity to travel actively, to take the wheel and steer your life in a new direction. Our Journeys range from 2 to 25 days. This isn't a charter. A typical day includes: a stint at the wheel, participation in our cutting edge discussions with fellow travelers, monitoring marine plastic pollution, diving deep into our sustainable living plan, all followed by a warm home made meal as the sun casts its final rays over the ocean. Our 25,000 nautical miles we've traveled thus far have seen artists, scientists, social entrepreneurs and business leaders all take that leap to grow with us.
SHARE
Travel wouldn't be travel for us if it wasn't enriched by people, places and organizations changing the world for the better. Everywhere we go, we seek to share our values and manifesto with them. It's a way of making our stay at anchor count, and sharing what the sea has shown us. People are noticing. We've appeared in articles worldwide, exchanged recipes with an Antarctic base commander live on the radio, ran a crowd-funding campaign inspired by local entrepreneurs, held impromptu talks, concerts and screenings whilst docked up in over 15 countries...as an open doors sailboat, sharing is in our DNA.
TEACH
Rusalka is an open classroom. Our participants and students who have completed our workshops are our community. The need to inspire each other to raise more conscious individuals into the 21st century has driven us to share our knowledge about alternative paths to consumerism and happiness, reducing and upcycling and eduating at the bottom of the pyramid as well as the top. Our education philosophy: Using our boat as a conduit to create an increased respect and better interaction with nature.
WHAT WILL YOUR RUSALKA EXPERIENCE BE?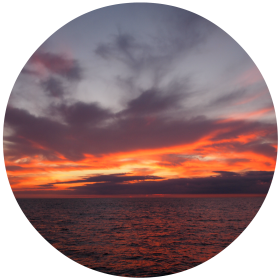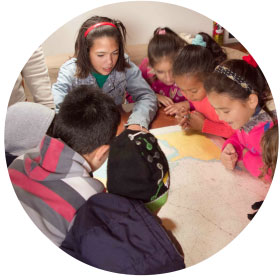 TAKE THE JOURNEY WITH US
Ready to take the wheel? The day you pull up the anchor is the day great things happen! Taking the leap is the hard part, talking to us at sailrusalka@yahoo.com.mx is easy. We'll let you know the details of our next trips and look forward to seeing you.
STEP ONBOARD FOR THE DAY
Whether it's a one day home schooling experience with your kids, a unique space to host your coworking day or a one hour tour of how we live sustainably, all you have to do is check out on Facebook where we are in the world. If you're around, we'll schedule your visit at sailrusalka@yahoo.com.mx
SCHEDULE A WORKSHOP
Looking to share our experience with your school?
We offer 1, 3 or 5 day workshop packages, one day talks and educational boat visits, all designed to meet your needs.
Email us to design your own experience at sailrusalka@yahoo.com.mx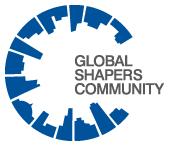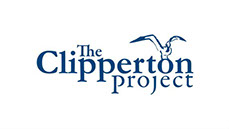 We've realized that the least fun part of what we do is checking our social media, we'd much rather be hauling up a sail, fixing the winch or reading a story to our children, but we love to hear from those who follow us.